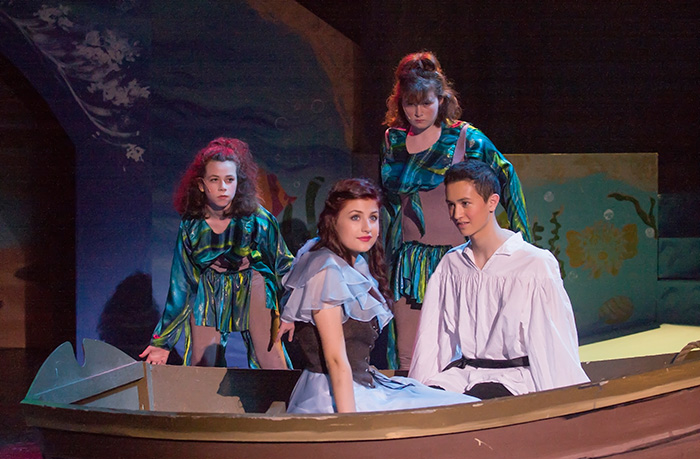 Sponsorship
NOTE: This page is still under construction. "Donate Now" buttons and links to online payment will be available soon.
Benefits
In addition to feeling good about sponsoring the theatre arts in your community, there are a number of benefits that come along with underwriting or sponsorship at RB Productions.
All levels of sponsorship include the benefit of logo placement and/or mention in program inserts. Substantial contributors, major sponsors, and underwriters may also receive a sponsor's mention before the show, a "Gobo" logo projection on the interior wall of the Capitol Center, free ad placement in the show's program insert, complimentary tickets or possible naming rights, depending on the level of contribution. (There is also the option to support RB Productions anonymously.)
Benefits vary, depending on location, for Mainstage productions and Masterclasses. For specific benefits at each sponsorship level, please contact Kelly Kinhan, Marketing Committee Chair.
Also view the 2017 Sponsorship Opportunities brochure, or the Major Donor brochure for more details.
Major Contributor / Underwriter
For those who are interested in supporting RB Productions facilities, program growth, construction, costuming, general expenses or the annual fund.
Major Contributor / Underwriter: $5,000 and up
Youth Theatre Sponsorship Options
For those who are interested in supporting the Youth Theatre summer programs.
Summer Season Show Sponsor, $5,000
Show Sponsor, $1,200
T-shirt Sponsor, $2,500
Publication Sponsor (program inserts), $1,000
Poster Sponsor / Bio Boards, $500
Table Sponsor (photo sales, etc.), $250
Banner Sponsor (show of support), $125
For More Information
For more information about becoming a Sponsor of RB Productions, please contact Clint Klose, Artistic Director, or Kelly Kinhan, Marketing Committee Chair.
You can also advertise in our summer program, become a member, or volunteer.
What I love about RB Productions…
is that I'm able to do the thing I love the most, with the people I love the most! It's amazing!