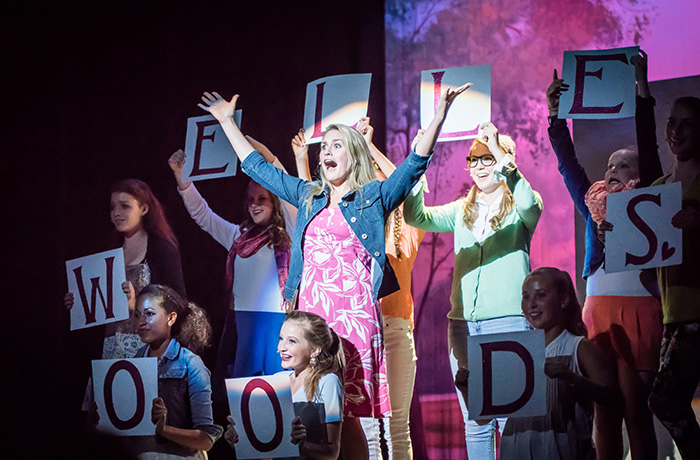 Program Benefits
Skill Development for Youth
RB Productions theatre programs are extremely beneficial for youth and young adults. Participants build valuable skills in stage performance, self expression and public speaking. They are encouraged to try new things and take risks, taught how to handle success and failure, and learn how to support and encourage others in their efforts. RB's programs help youth develop a sense of pride and accomplishment and create opportunities to learn about theatre from coaches, directors, peers and visiting Broadway professionals — an opportunity not commonly found at community theatres.
Work Experience for Young Adults
RB also gives young adults employment and volunteer opportunities that may not be available to them through local schools and colleges. For those who are considering a career in theatre — actors, directors, choreographers, costumers, stage managers, lighting managers, and sound technicians — RB Productions provides a great way to gain real-life work experience.
Cooperative Community Relationships
RB Productions theatre programs are strong community-building activities. There is a collaborative and supportive relationship between youth participants, the adults who teach and mentor them, volunteers and parents. In addition, organizations such as the Capitol Center for the Arts, other regional theatre programs, area music schools, dance studios, teachers, businesses and individuals come together to provide training, financial support and other resources that help make our programming and shows successful.
Other Benefits
Provides an educational benefit, exposing participants and the audience to history, values and emerging ideas.

Teaches important skills like teamwork, creative problem solving, poise and confidence in public speaking.

Provides meaningful career and learning opportunities by giving participants a place to practice and perfect new skills.

Strengthens the economy as participants purchase training, supplies and services (music and dance lessons; costuming and set materials; design and audio-visual services, etc.).

Makes a contribution to the regional artistic culture and nurtures the talent and art appreciation skills that other theatre and art programs depend upon.

Provides an affordable live theatre experience for the general public.
By supporting RB Productions programs you make a contribution to the community by supporting the local artistic culture and helping build the creative economy. You also help us bring educational theatre programs and cost-effective quality entertainment to the region.
What I love about RB Productions…
is that it's, by far, the highlight of my entire year. I'm amazed at how much I grow as an actor over only a one to two week period. RB is…, in a word, …well, it's too amazing for one word!
Tyler S.