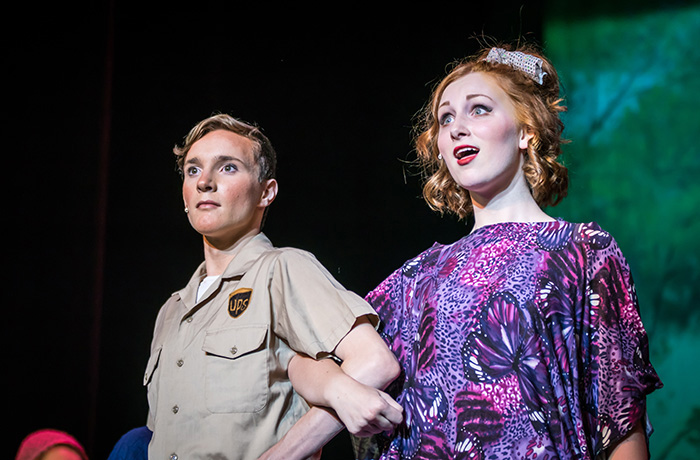 Contact Us
Mailing Address
RB Productions Theatre Company
P.O. Box 67
Concord, NH 03302
Phone / Email
603.568.5099
For program questions or creative concerns, email Clint Klose, Artistic Director.
Program Locations
RB Productions does not have a theatre of its own. We rely on the cooperative support of local community organizations for our performance, audition, and practice spaces. Here is a list of our current venues:
Capitol Center for the Arts
Each summer RB Productions offers a series of youth theatre productions. Youth theatre rehearsals and shows take place at the Capitol Center for the Arts, located at 44 South Main Street in Concord.  The Capitol Center is the largest and most successful performing arts center in the region.
Because of a cooperative arrangement with the Capitol Center, and as a part of their performing arts community outreach, RB Productions is able to use the performance spaces during the off-season (summer) months.
Beaver Meadow School
Beaver Meadow School, located at 40 Sewalls Falls Road in Concord, is where our summer youth theatre auditions are held. The welcome and orientation desk is located on the lower floor. After entering at the main doors, cross the lobby and go down the stairs to check in near the music room and gymnasium. Follow the signs!
Concord City Auditorium
Mainstage shows and rehearsals held during the school year take place at the Concord City Auditorium ("The Audi") located at 2 Prince Street in Concord.
Tad's Place Performing Arts Center at Havenwood Heritage Heights
Thanks to a cooperative arrangement with Havenwood Heritage Heights, RB Productions also holds master classes and workshops at Tad's Place Performing Arts Center. This intimate campus theatre is located on the grounds of Havenwood Heritage Heights at 149 East Side Drive in Concord. (Tad's Place is on the right when you come in the entrance.)
The RB Productions Costume Shop
Costumes and props are a big deal to us! Our modest costume workshop is located in downtown Concord and is only used for storage.
(A shout out to Mark Ciborowski of Concord for his assistance as a partial costume shop sponsor!)
What I love about RB Productions…
is that it can be stressful, scary, emotional and overwhelming. But when the show rolls around…